Kerry Washington has been a force to be reckoned with since she first hit the scene back in 1994. Her gradual rise as a commercial actress from the Bronx to Emmy award-winning leading lady has always been an inspiring journey for fans to watch.
The Scandal star lives a pretty low-key life with her hubby and two kids these days. But before becoming a mom, Ms. Kerry was a young actress in these California and NYC streets serving looks, smarts and sass.
She's always down to stand for a cause that she believe in. Like the 2018 Times Up movement that swept Hollywood.
"[Women] shouldn't have to give up our seat at the table because of bad behavior that wasn't ours."
And she's always standing for the advancement of Black women:
"We must see each other, all of us and we must see ourselves, all of us and we have to continue to be bold and break new ground until this is how it is, until we are no longer 'firsts' and 'exceptions' and 'rare' and 'unique."
Mind you, she does all of this while looking flawless. Honestly, there's not one bad photo of Kerry on the Internet.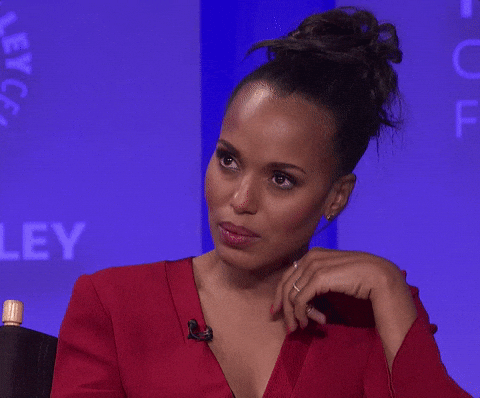 The mom of two turns 45 years old today. In honor of the big milestone, check out our gallery of Kerry Washington in all her badiness throughout the years.
Happy Birthday, Kerry!
Been Bad: 11 Gorgeous Photos Of Kerry Washington Over The Years  was originally published on globalgrind.com
1. New Yorker
Source:Getty
Before making it big in Hollywood, Kerry was just an aspiring actress with a degree in sociology.
2. Fresh-Faced
Source:Getty
Washington got her Screen Actors Guild card in 1994 as a requirement for a commercial she starred in. Receiving her official card symbolized her "I have arrived" moment in Hollywood.
3. '00s Kind Of Girl
Source:Getty
By the early 2000s, Washington was finally making a name for herself in Hollywood. She won the Teen Choice Award in 2001 for breakout star for her role in "Save The Last Dance."
4. NAACP Awards
Source:Getty
Ms. Washington's black girl magic has shined through for as long as we can remember. Here she is in 2005 receiving her NAACP Image Award for Outstanding Actress for her role in "Ray."
5. Daddy's Girl
Source:Getty
Kerry is never shy about her love for her parents. Here she is back in 2006 receiving a kiss on the cheek from her dad.
6. Girlfriends
Source:Getty
Kerry has made a bunch of A-list friends over the years that she still considers close pals even today. Tracee Ellis Ross is definitely one of them.
7. Yes, We Can.
Source:Getty
In 2008, Kerry campaigned for then-presidential hopeful Barack Obama. Needless to say, her hard work paid off.
8. Old Loves
Source:Getty
After gaining worldwide recognition for her role in "Ray," Kerry experienced her first public breakup in 2007 with her fiance of three years, David Moscow. The actress claimed she needed time to find herself.
9. Black Hollywood
Source:Getty
In 2008, Kerry tried her hand acting in another genre of film: thrillers. She teamed up with Samuel L. Jackson for his movie "Lakeview Terrace," adding to her already phenomenal list of credits.
10. Shondaland
Source:Getty
Kerry became everyone's favorite leading lady as the incomparable Olivia Pope on "Scandal" in 2012.
11. Bow Down
Source:Getty
The gorgeous 40-year-old's career has been on the up and up since she hit the scene in the early '90s. Even in 2017, she shows no signs of slowing down.